April 1st, 2013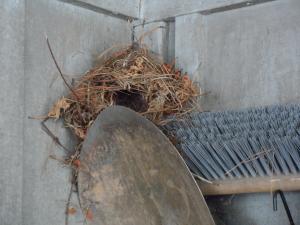 Awaiting spring....
This photo was taken March 27th, 2013 at my home in Roswell, GA
As I reached for the shovel, to work in my garden, I was caught by surprise as a tiny Sparrow flew past my head. Then I noticed the sweetest birds' nest I have ever seen...
Atop my hanging tool caddy sits a masterpiece made from shredded paper from my leaf & lawn bags, spanish moss, from the driedout potted plants below, along with pinestraw, leaves and twigs from the nearby garden. Tucked away inside the garage, away from the rain, wind and other creatures is a intricately built, fully protected home of a soon to be ( I guess) family of Sparrows "Nestled In".
October 1st, 2012
I am amazed at these cards...I'm using business cards, mini cards and pose cards. All featuring my own artwork on one side and fully customized by me. OMG!! The quality, images and impact are unbelievable!! See for yourself....use my URL http://www.moo.com/share/qhfpf9 and we both get a special deal. No obligation (of course) but you can even try them for free!!
I've had mine 48 hours and handed out a dozen or so through out my day (without any effort) have gotten 100% response!
AND 2 sales!!! WOW!!

September 9th, 2012
http://www.blogger.com/blogger.g?blogID=6520767670459250728